The No-Singing Red & Blue Show
The Museum of Arts & Design
New York, NY | 2015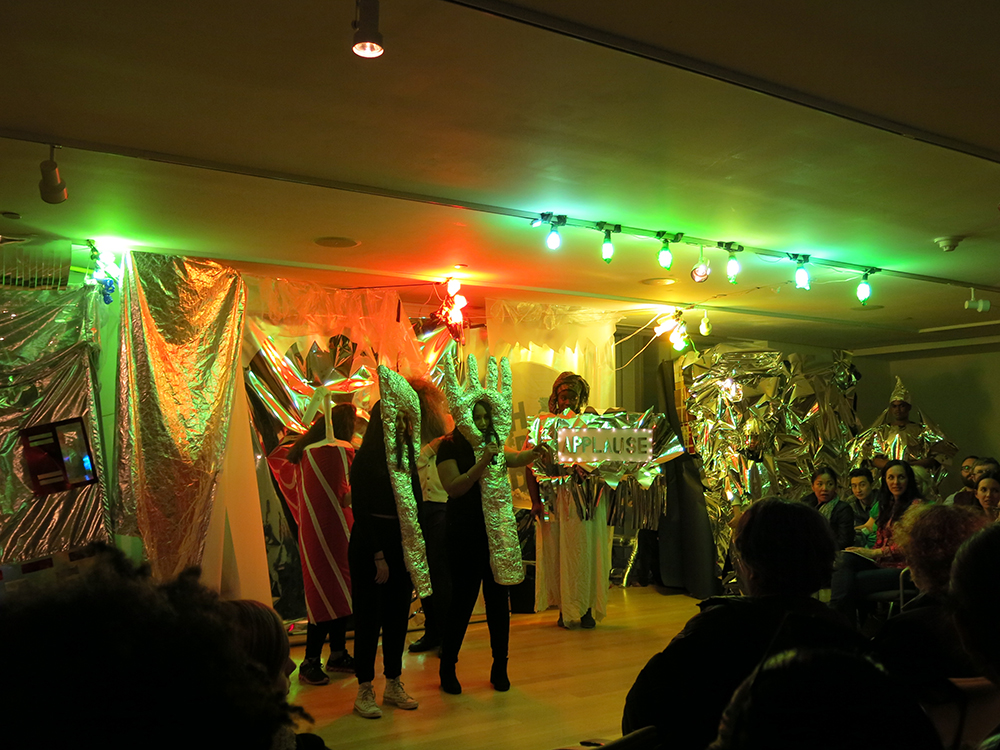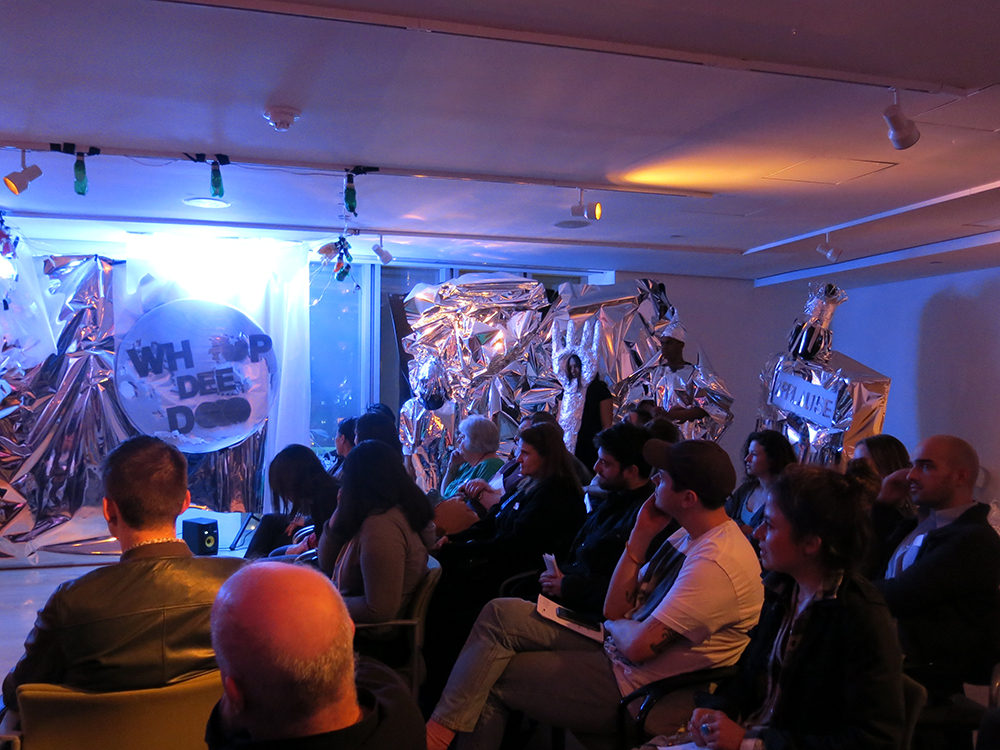 about the show
In April, 2015, as part of the MAD Museum's performance series, "Making a Scene" Whoop Dee Doo artists, along with performance artists Colin Self & Jordan Isadore, were asked by designer and visual artist, Katie Stout, to collaborate on a performance responding to her work.
Whoop Dee Doo artists led an 8-day workshop in the MAD Museum's classrooms with 11 high school students drawn from all over the city of New York to create a new variety show featuring multiple performances from the amazing a cappella doo wop group, The Tee-Tones.
The event's title was "A Flaccid Domesticity" in reference to Katie Stout's series of plush re-imaginings of standard household furniture. In keeping with that theme Genesis Monegro, one of the workshop's brilliant students, came up with the idea of a giant fabric jukebox. Katie Stout, our collaborative designer, created a giant "flaccid" jukebox from which The Tee-Tones performed their first song of the night – first from inside, then jutting their faces out of custom-made holes from them to perform through, until finally the jukebox lowered and revealed the singers' silver costumes matching the entire set. The collapsing of the fabric jukebox allowed The Tee Tones to emerge and show the audience their dance moves as well as vocal abilities.
The title of Whoop Dee Doo's performance was "The No-Singing Red & Blue Show" – a trick on the audience as there was a great deal of singing and a set made entirely of silver, reflective materials.
Curation
Jake Yuzna
Youth Group Leader
Cody Rae Knue
Performers
Links
Museum of Arts & Design
In the Making
Artists
Jeila Gueramian
Erin Sheehy
Jaimie Warren
Matt Roche
Student Artists
Adam Saleh
Destiny Perez
Kim Corona
Genesis Monegro
Ashantee Franklin
Alma Moos Nunez
Gerard Truitt
Rebecca Fayemi
Teddy Rosen
Daria Mateescu
Sumura Bell