Frigerator Follies
University of Cincinnati / DAAP
Cincinnati, OH | 2013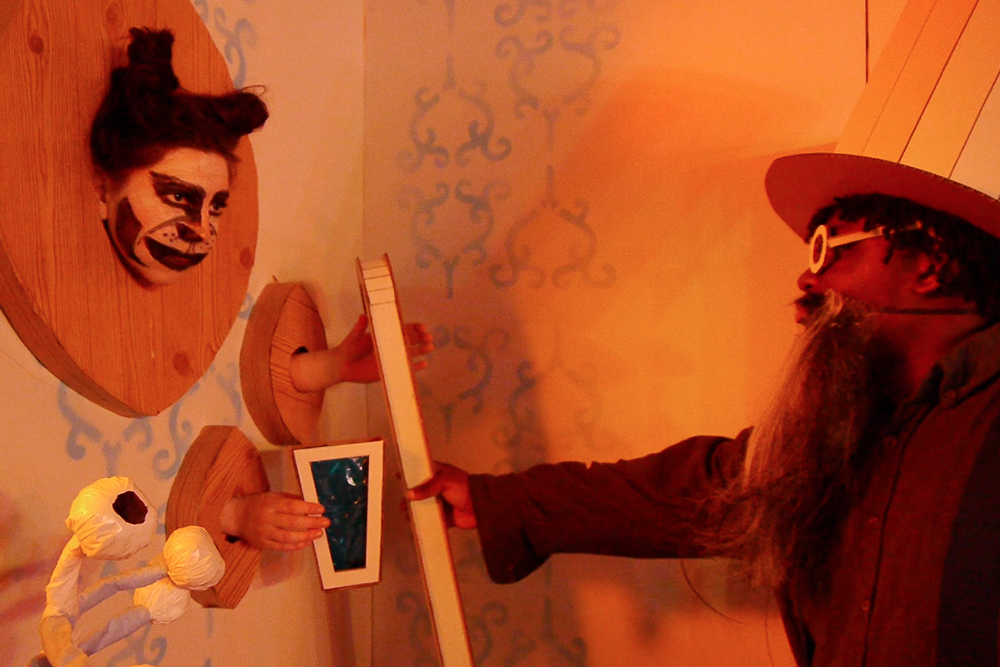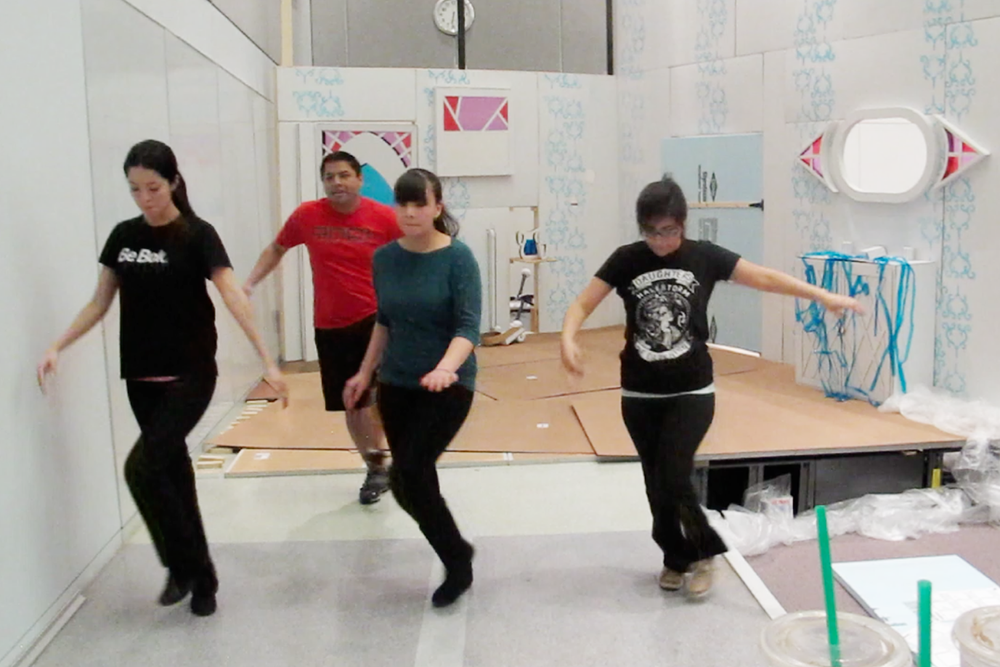 about the show
During the Spring Semester 2013, five Whoop Dee Doo artists taught a special problems elective at the University of Cincinnati, DAAP. In the course, eleven students worked alongside Whoop Dee Doo artists to design and construct a stage set and large scale installation within the University's Eisenmann Lecture Hall, a four hundred seat auditorium with stadium seating. Additionally, these students thoroughly researched their community, presenting images and information on over 75 performers and performance groups from the Cincinnati community. We contacted and discussed the project with dozens of Cincinnati performers, and landed on our perfect match: Los Embajadores Peruanos. These Peruvian folkloric dancers were willing to take on a full collaboration, allowing twenty artists to re-construct their entire appearance and performance.
In part two of our project, Whoop Dee Doo artists, Los Embajadores Peruanas, and a select group of college students worked to create a unique workshop series for four high school students from Cincinnati's Lighthouse Youth Program. The dancers were invited into the classroom to teach the students about the history and culture of their costuming and dance. The dancers then generously worked with the students to create an entirely new version of the Tuntuna, a dance from the Aymara culture with strong African roots. The high school students worked to redesign the costumes, choreography, and to create a short narrative within the interactive set created by the students at the University of Cincinnati.
The final performance was a six minute piece performed six times at the University, an event that generated an overwhelming response and sold-out shows.
Artists
Michael O'Malley
Lee Heinemann
Jaimie Warren
Erin Zona
Matt Roche
Performers
Los Embajadores Peruanos
Marisol Perez
Karla Mcdaniel
Raquel Landeo
Paul Carhuatanta
Karina Carhuatanta
Student Artists
Creative Direction: Jayvon Lackey
Costume Design: Mykeesia McCoy & Ziala Danner
Stage/Set Design: Courtney Jackson
Curation
DAAP Program at UC
Youth Group
Lighthouse Youth
Youth Group leader
Tiana Johnson
UC 3D Studio Elective Students
Katrina Rattermann
Christina Coobatis
Jackie Braden
Amanda Checco
Jean Keuffer
Samantha Dorgan
Samantha Vance
Sayoko Osada
Sean Sandusky
Lindsey Sahlin
Jaimi Ryan
Lauren Kline